"Jalapenos in your what?" you say. Yes, jalapenos are very versatile and go very well with with berries and sweets. They balance the sweetness of fruits with their herbaceous flavor and the spice is quite nice too. I paired them with raspberries for a sweet, tart and spicy sherbet because I was thinking about this awesome raspberry and jalapeno jam a friend got for me from Santa Fe last year that I polished off in like two weeks! There was no way I was going to make jam in this crazy hot, humid weather we've been having here so sherbet was perfect.
Sherbet, also spelled Sherbert, is a fruit based dessert made with a little cream. Sorbet on the other hand is made with the same ingredients but contains no heavy cream. Next time I make it I'll use a finer strainer since quite a few seeds came through so if you mind the seeds then I suggest you do the same. A cheese cloth would work very well for straining. This sherbet is a little tangy and the spice lingers at the back of your throat nicely. It's a perfect treat for the hot, humid days of Summer.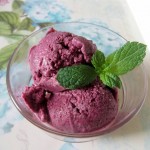 Print Recipe
Raspberry Jalapeno Sherbet
Recipe adapted from The Big Chill ice cream machine
Ingredients
Pint

of Raspberries

washed & drained

1/2

cup

sugar

3-4

slices

of jalapeno

diced

1/2

cup

water

2/3

cup

heavy cream
Instructions
Add the raspberries, sugar, jalapeno slices and water to a bowl and mash up well.

Add mixture to a saucepan and set on medium heat until mixture comes to a boil and some of the liquid boils down. Let mixture cool down.

Pour mixture through a sieve or strainer to remove the seeds and collect mixture in a bowl. If you want jalapeno pieces in your sherbet add some of it back, this is optional.

Add the heavy cream to the spiced raspberry liquid and stir well.

Refrigerate mixture for at least 3-4 hours and then pour into your ice cream maker and follow the manufacturers directions.

Pour mixture into a container and freeze overnight or for several hours.

Scoop into a bowl and garnish with mint. You can also chop up mint and mix into sherbet for a spicy, minty raspberry flavor.