Crispy and crunchy chicken without deep frying? Of course, just follow this quick and easy recipe for crisp, hot and spicy chicken breasts. It's a more healthy alternative to frying, doesn't require much prep time and is tender and juicy.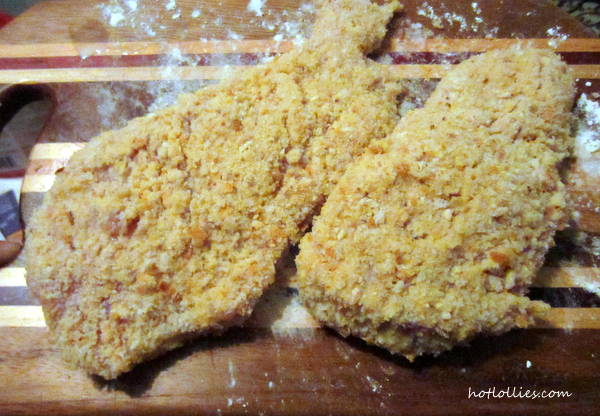 The key to achieving that crispy texture is to double dip chicken in the wet and dry mixtures.  Browning the chicken on stove top with just butter and finishing it in the oven maintains that crunchy texture and also doesn't leave with the oily mess you get from frying, never mind the extra fat too.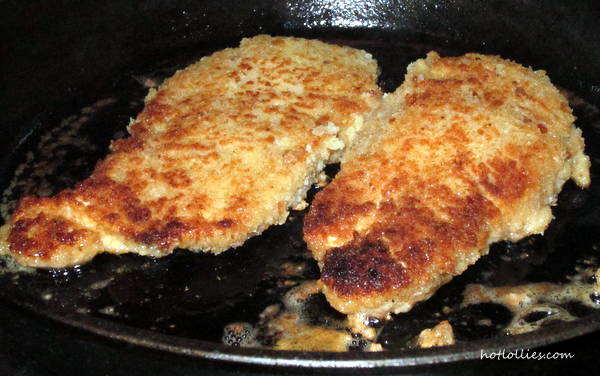 Since white meat tends to get a little dry, soaking the chicken in the milk mixture for several minutes will also give you a tender and moist piece of chicken.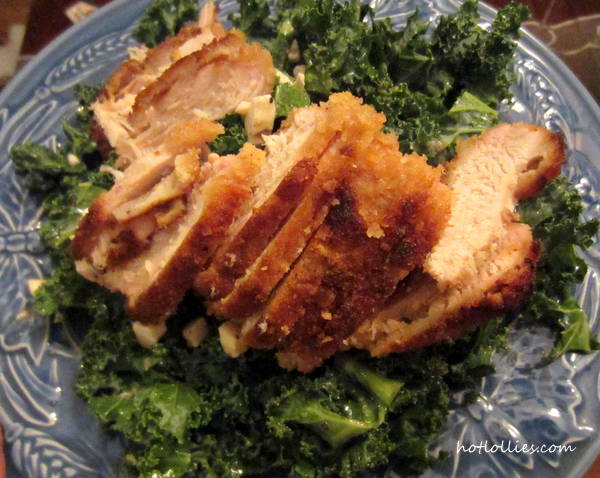 Serve it on a bed of kale salad for a healthy dinner.
Spicy Chicken Breasts and Kale Salad
2 chicken boneless breasts
1 tsp Adobo, divided (found in supermarket Spanish food section or bodega)
1/2 cup flour
1 egg, beaten
1/2 cup whole milk
3/4 cup breadcrumbs
1/2 tsp cayenne pepper
1/2 tsp pequin pepper flakes
salt & pepper
1/2 stick butter
1. Season the chicken with 1/2 tsp of Adobo and set aside. Preheat oven to 350 degrees.
2. Set three shallow bowls in front of you and in first bowl add the flour. In the second bowl beat the egg, add milk and season with salt & pepper and mix. Add the bread crumbs to the third bowl, 1/2 tsp cayenne pepper, the pequin pepper flakes, the remaining Adobo seasoning and mix well.
3. Dip the chicken in each of the bowls starting with the flour first. Coat the meat with flour on both sides. Then add the chicken to the milk mixture and let it sit for about five minutes. If you have a little extra time let it soak in the milk mixture and leave in the refrigerator for 30 minutes. Lastly, dip chicken in the seasoned bread crumbs until well coated.
4. Repeat step 3 except don't let chicken soak in milk just dip quickly and cover in bread crumbs.
5. Heat a cast iron skillet on medium heat, add butter. When butter has melted, saute the chicken until you get a nice brown color on both sides.
6. Finish the chicken in the oven and cook for 15-20 minutes until chicken is cooked all the way through. Remove from oven and let it rest for a couple of minutes. Slice chicken and serve over kale salad.
Feta & Red Onion Kale Salad
Chop a bunch of kale greens and toss with a little red wine vinegar, olive oil, thinly sliced red onion and crumbled feta cheese.