I picked up this beautiful wild Sockeye salmon on my way home from work. Isn't she a beauty? I was looking for an easy and healthy meal that wouldn't take too long and grilling has been the only option for me lately. I have refused to turn on the stove even though weather has been a little cooler than normal this August, July was an inferno! The Sockeye is lovely to look at but even better eating it so as soon as I walked in the house I got to prepping for this healthy and spicy grilled Sockeye salmon recipe! Yes you'll pay a little more for wild sockeye salmon but aren't you worth it? 🙂 You just have to treat yourself once in a while!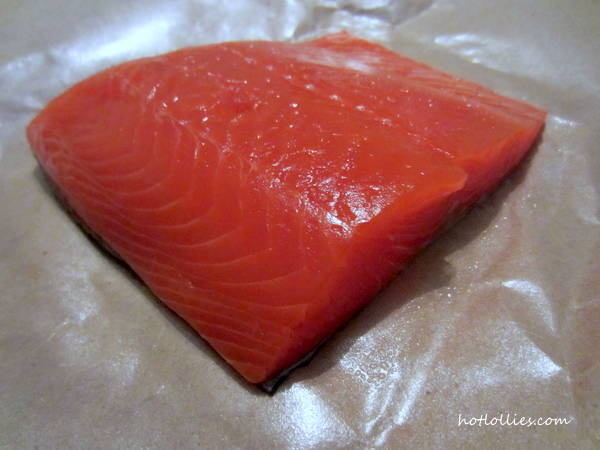 Sockeye salmon is bright, fresh and all natural and is known across the US as "red salmon" because of its rich, red hue. The Sockeye gets its color from a diet rich in zooplankton and shrimp. Sockeye salmon isn't the most fatty of salmon or the most popular, the king salmon is, but the sockeye has a stronger salmon flavor. Salmon is one of my favorite fish and nothing like eating natural salmon from the wild, you just feel better eating it. There have been several times when I've gone to buy salmon at my local supermarket only to put it back after seeing they've add food dye. That's been done to farmed salmon for years, if it's not pink enough they'll add some color for you! The FDA says it's safe but I'll bet on nature any day! So sometimes I splurge a little and pay extra for quality as a special treat to myself! I wanted something healthy and easy to make so making this spicy grilled salmon recipe was the perfect after a long day at the office!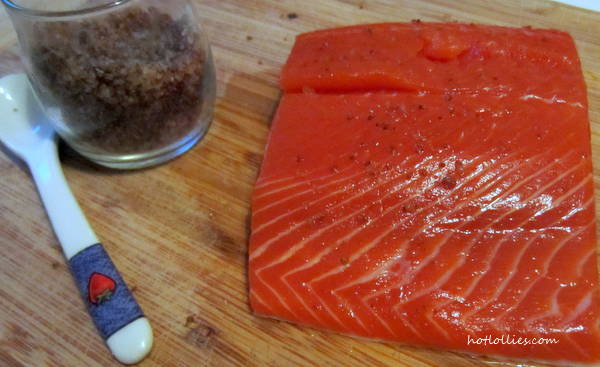 Salmon has many nutrients and it's meatiness makes it a very filling fish. It's so simple to prepare, just a little salt and pepper will do most of the time but you know me, I had to turn the heat up and make it spicy! Grilling the fish was also a better option for me considering the heat wave we've had this Summer, it gets the skin nice and crispy as well. I first seasoned the salmon with a habanero sea salt but wanted a much bolder heat. I picked up this amazing habanero horseradish sauce from DEFCON Sauces at the NYC Hot Sauce Expo last Spring and had been saving it for a grilled steak dish but this sauce took the salmon to another level.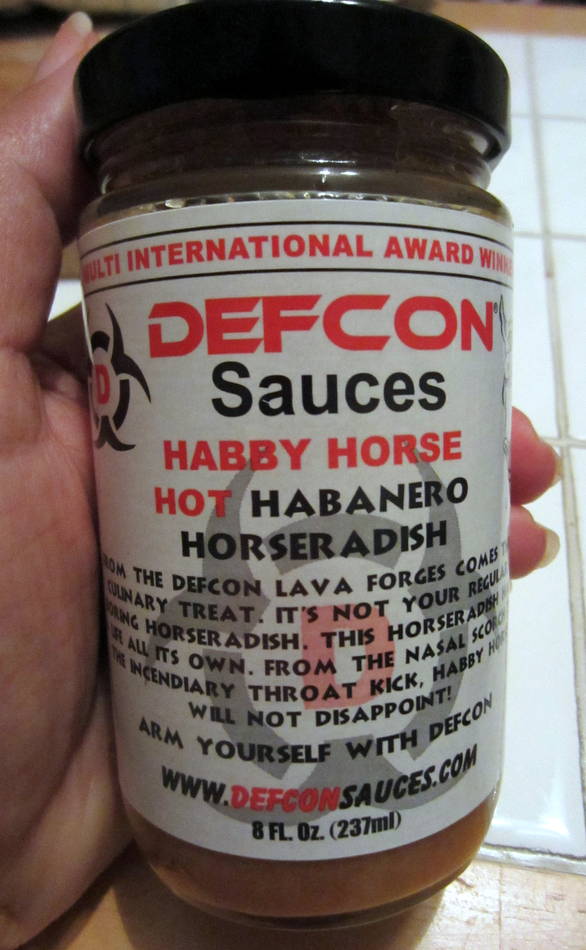 The label reads a little scary but don't be afraid! If you can handle jalapeno heat or a bit of habanero or scotch bonnet peppers you can handle this sauce. Also, it's not just pure heat, the flavors are bold and well balanced and you can really still taste the horseradish. It's truly a great sauce. I'm not a fan of products that only burn so always look for great flavor and if it's not hot enough I can always add extra heat but didn't have to with this sauce. I grilled the Sockeye salmon first then after it was almost cooked I generously spread the sauce on top. It'll also be great on steak I'm sure so you may see that next time!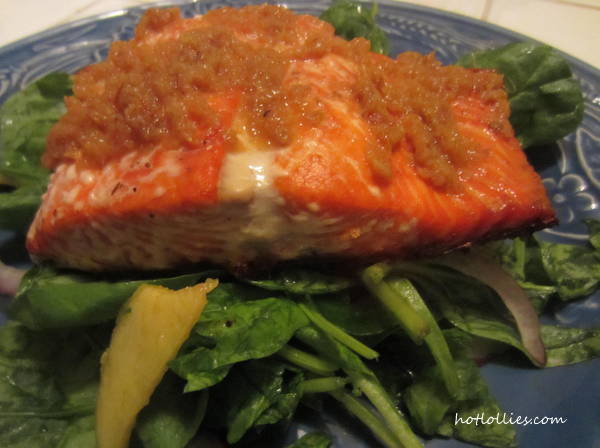 While the salmon was grilling, I tossed a quick baby spinach salad with red onions and nectarines for some some added sweetness and was done in about 15 minutes! So simple and easy and just what I need after having a long day at work. If you live in the city or an apartment and don't have a grill get yourself an indoor stove top grill or prepare your salmon on a George Foreman grill, either will work like a charm.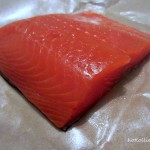 Print Recipe
Spicy Grilled Sockeye Salmon
Ingredients
1

lb

wild sockeye salmon

Habanero Sea Salt

2

tbsp

Defcon Habby Horse Hot Habanero Sauce

Bunch of baby spinach

washed

small red onion

thinly sliced

1

nectarine

peeled & thinly sliced

2

tsp

ginger balsamic vinegar

1

tsp

olive oil

salt & pepper
Instructions
Heat up the grill then season the salmon with the habanero salt. Place the salmon on a grilling rack so fish doesn't stick to the grill. Place the rack with fish directly on grill and cook for about 10 minutes.

Right before salmon is done, spread the horseradish sauce over salmon and leave on grill for another minute.

Prepare a quick salad by tossing the spinach, red onions, nectarines, olive oil, vinegar in a bowl and add a pinch of salt and pepper.

Place the salad on a plate and top with salmon.