I haven't been cooking much lately. After the buzz of the holidays faded, I got hit with a severe cold and just didn't have much energy for anything. All I wanted to do was lounge out in my pajamas and get under the covers with a good book or movie. Take out, juice cleanses, canned soups and anything low effort was at the top of my list for dinner, besides, I was still feeling a little guilty about all the rich foods I had eaten weeks prior. Then came the bitter cold of last weeks Polar Vortex and knew I'd spend several days indoors. I decided to make a pot of chili last week that brought me back to life and next up was this spicy chicken noodle soup recipe! There's just something about having a hot bowl of homemade stew or soup that takes the chill out of your bones and makes you feel all warm and cozy inside.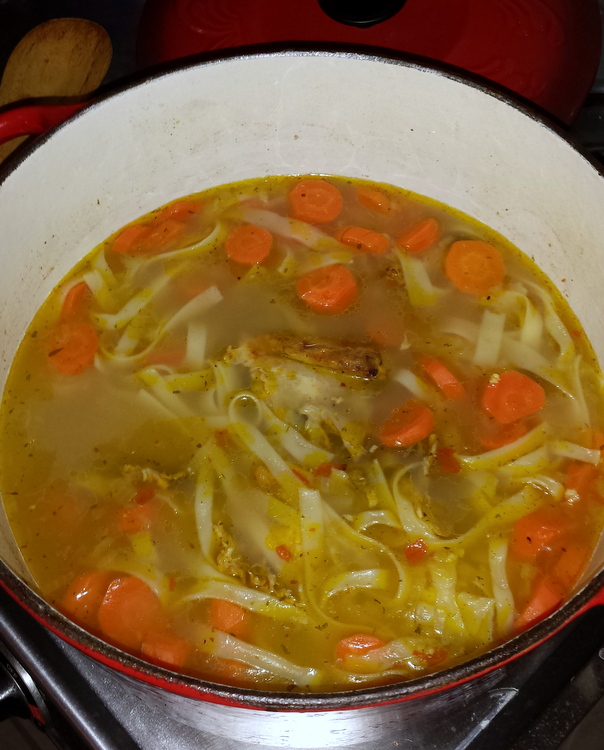 This recipe is quick and easy and pretty straight forward. It's definitely something you can knock out after a long day at work or the weekend. This isn't your typical American style chicken noodle soup but one with roots in Caribbean and umm Asia! Cumin, oregano, achiote (annatto) and garlic flavors with Asian rice noodles and Thai peppers! A mash up of sorts, part Dominican, part Asian, I call it Dominicasian cuisine! The flavors are all Latin though but with a couple of Asian ingredients because well, it's what I had and sometimes you just work with what you got! Any kind of noodles would work here, its all a matter of what you like. I would have used egg noodles or fideos (Spanish for noodles, usually very thin) if I had any.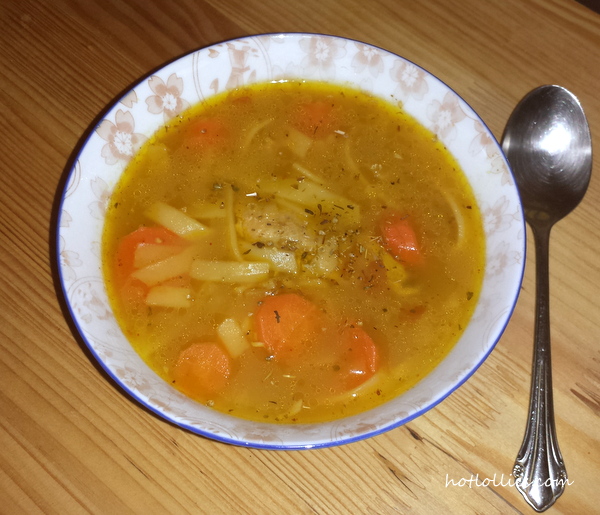 Note: If you can't find Adobo with cumin, use regular adobo and add 1/2 tsp of cumin. Also, recipe includes cilantro which I forgot to add when I made this. Cilantro will really brighten flavor up so be sure to add.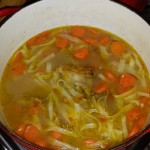 Print Recipe
Spicy Chicken Noodle Soup
Ingredients
1

tbsp

canola oil

1

small onion

chopped

1-2

garlic cloves

minced

2

large carrots

sliced

8

cups

water

2

cubes chicken bouillon

2

tsp

Adobo with cumin

1

tsp

oregano

3

dried Thai chiles

1/2

envelop/packet of Sazon with Achiote

Annato

1/4

or 1/2 in bone cooked chicken

in pieces

5

oz

rice noodles

about 1/2 pkg

few sprigs of cilantro
Instructions
Heat up canola oil in a large pot over medium heat. Add onions and cook until translucent. Add the garlic and stir.

Add the water, chicken bouillon, carrots, and the rest of the ingredients except the noodles. Let the soup come to a boil.

Cover and cook for 10 minutes.

Add the noodles and cook for another 7 minutes until noodles are tender. Lower the heat and let simmer then serve.