Got a craving for spicy foods and also trying to eat healthy? Make these spicy baked sweet potato fries recipe to keep that waistline nice and trim. Sweet potatoes are high in fiber and a great source for antioxidant vitamins like beta carotene (vitamin A) and vitamin C. They're considered a superfood because one single potato is packed with so many nutrients. The best thing about them is they're filling and taste great either roasted, baked and have a natural mild sweetness that goes well with many spices. When we think of spicy foods what usually comes to mind are high caloric, fried, cheesy foods but there are many ways to eat healthfully and still enjoy great tasting spicy foods.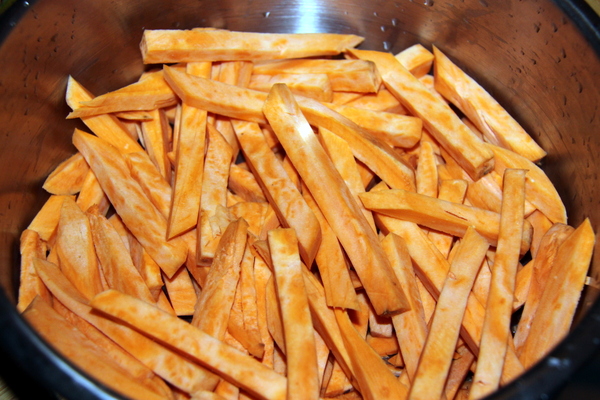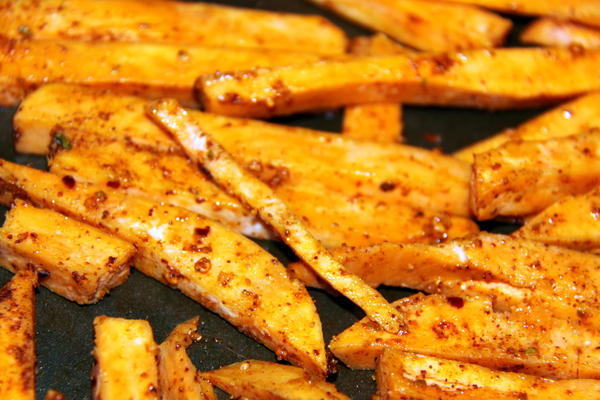 These fries are pretty spicy. The volcanic dust I used from Volcanic Peppers is aptly named so proceed with caution! 🙂 This pepper powder is made with ground up habanero and bhut jolokia (Ghost) peppers so what you're getting is pure, natural heat. Another great tasting spice I used was the new Perfect Pinch Fiesta Citrus seasoning from McCormick made with chile pepper, cumin, lime, garlic, and other seasonings for a mildly hot and smoky flavor. A couple dashes with cinnamon brings all of this great flavor together for a nice snack or side dish.
One of the main complaints you'll hear about baking sweet potato fries is that they're not crunchy or crispy enough. The trick to getting that crispy fried texture is to toss the sweet potatoes in cornstarch when seasoning. They won't get as crispy as the fried version but it'll be close enough. Besides, they tasted so good it really didn't matter to me if some were a little wimpy, the spicy, flavorful heat helps too.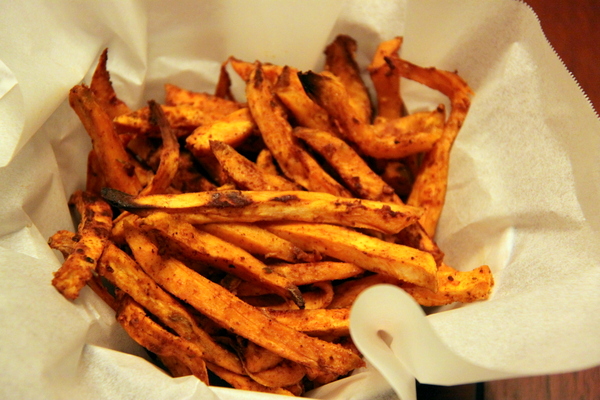 Another way to get around that soggy fry is to bake them thoroughly, then finish them in broiler for a couple of minutes. Just watch them closely because they'll easily burn.
Print Recipe
Spicy Baked Sweet Potato Fries
Ingredients
2

sweet potatoes

cut into fry sticks

1

tbsp

cornstarch

1-2

tbsp

olive oil

1-2

tsp

McCormick Fiesta citrus seasoning

1/2

tsp

Volcanic Peppers Volcanic Dust 2

1-2

dashes cinnamon

salt & pepper
Instructions
Preheat oven to 400 degrees. After cutting potatoes, run them through cold water.

In a bowl, toss the sweet potatoes with the cornstarch until completely covered.

Drizzle in the olive oil then add the rest of ingredients.

Rub in seasoning and oil with your hands so fries are well covered then spread out on a cookie sheet.

Bake for 25-30 minutes, turning fries once midway through cooking.

Finish under broil for 1-2 minutes and watch closely so they do not burn.

Remove from oven and serve as a snack or side dish.