Oh my! All I have to say is you must make these spicy honey whiskey hot wings. They're saucy, messy and hot, hot, hot! I used Salamander's Whiskey hot sauce which is already friggin amazing but wanted to add a bit of sweetness to tame the heat just a bit. If you like mouth burning wings, and I mean the kind that make your lips burn for at least a good 10-15 minutes, then this is it.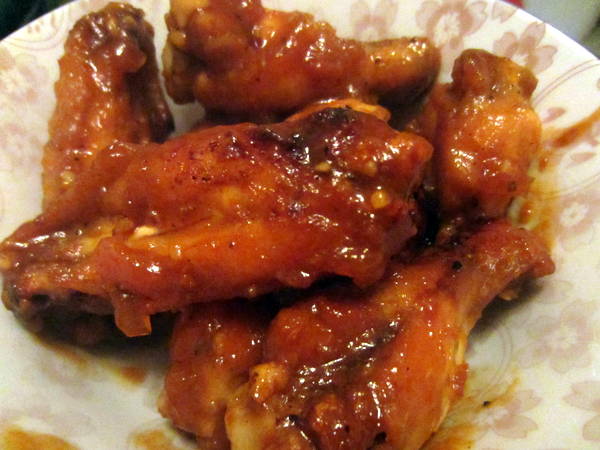 This was the best photo I could take at the time, tough handling a camera with sticky fingers!

Spicy Honey Whiskey Hot Wings
Ingredients
Wings

2 lbs chicken wings, split
1 tsp Adobo seasoning
Sauce

1 cup Salamander Whiskey Hot Sauce
¼ cup honey
3 garlic cloves, minced
1 small onion, minced
1 tsp black pepper
½ salt
*1/4 cup whiskey, optional
Instructions
Season the wings and let sit for 15 minutes.
Bring 2 quarts of salted water to a boil and add wings. Boil the wings for about 10-12 minutes or until cooked all the way through.
While chicken is cooking, prepare the sauce. Add the hot sauce, honey, garlic, onion, salt, pepper and optional whiskey to a sauce pan and bring to a boil. Continue cooking until sauce thickens a little then remove from heat and set aside.
When chicken is done, drain chicken and pat dry with paper towels.
Heat about ¼ inch of oil in a saute pan and pan fry the wings until wings are brown and crispy.
Transfer wings to paper towels to absorb oil then toss in a bowl with the prepared wing sauce.
Stir until wings are well covered and serve.
Make it for you next football game, your Friday night dinner, your next party, just make it!