Searching for a quick meal for a busy weeknight? Look no further than this spicy tomato galette. Every August and September these galettes make the covers of all the glossy food magazine for tomato season – they're like the super models of the garden. I'm one of those people that loves looking at recipes and collecting cookbooks just to stare at gorgeous food images. I have dozens of ripped recipe pages from magazines that will probably never get made. This time, it was the quick drop in temperatures that inspired me to turn on the oven, which got no use in the Summer, and make this spicy tomato galette.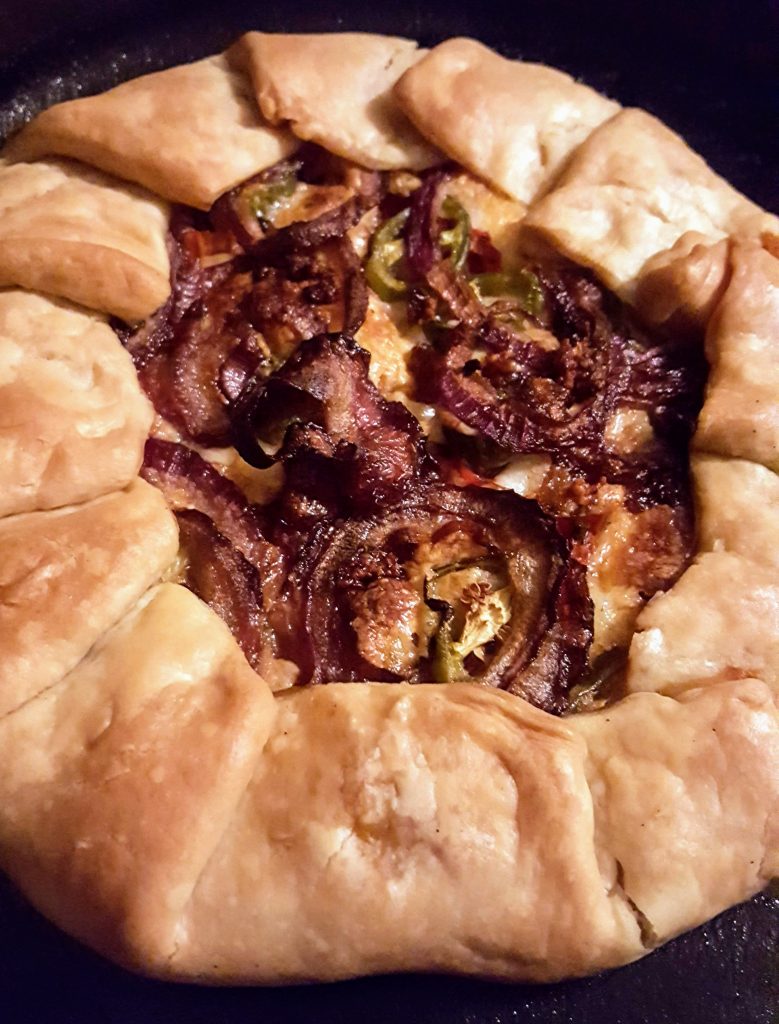 I planted my tomatoes late this year, in late June, but got lucky with a unseasonably warm September weather. My plants produced so many tomatoes that I had to figure out what else to make besides the usual salsas and salads. I'd say the most difficult part of making a galette would be making a nice, flaky crust but substituting the dough for a frozen pie shell will give decent results. The frozen package are about $3 comes with two round pie shells. You'll only need one for this recipe but you can double up the ingredients if you want to make two galettes.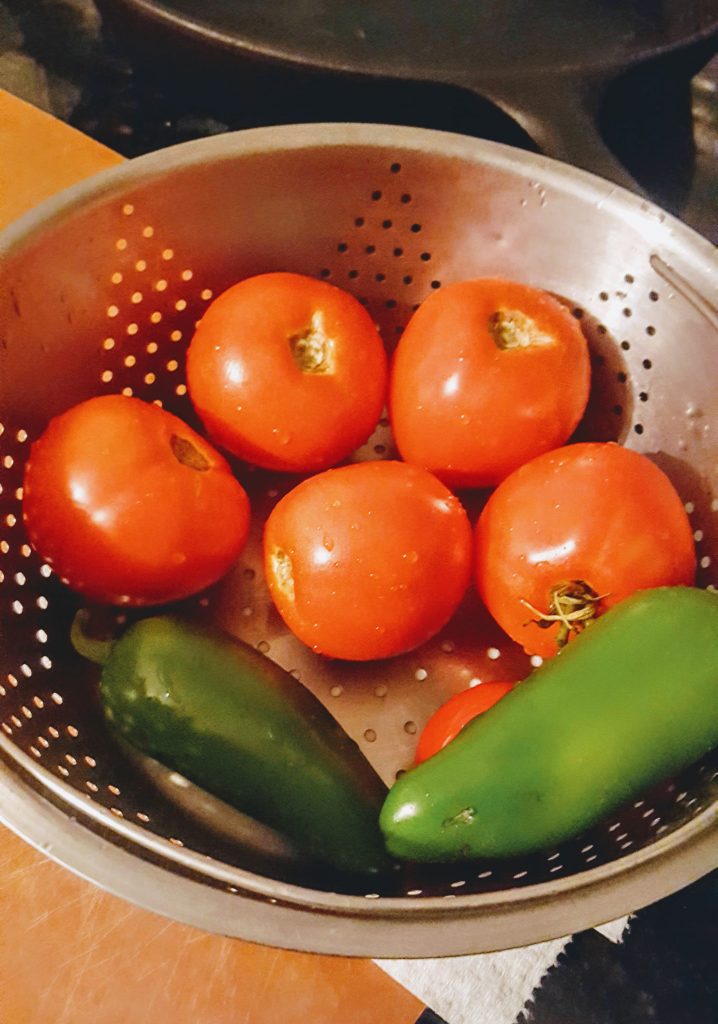 The Ingredients
I found Ina Garten's tomato galette recipe and knew it would be great. Ina is one of my favorite chefs and all the recipes I've tried from her cookbooks never disappoint. I hate it when you see a great recipe with gorgeous photos and they turn out awful. Clearly some recipes aren't tested and have learned over the years to constantly taste and adjust as I go along.
So here's the kicker – I didn't have all the ingredients listed and used what I had in frig but did follow her process. Her recipe called for goat cheese, yellow onions, basil, and well, I had Mexican cotija cheese, red onions, cilantro and lots of jalapenos! Love Ina an will definitely try hers soon but I really love how this spicy tomato galette turned out and hope you do too!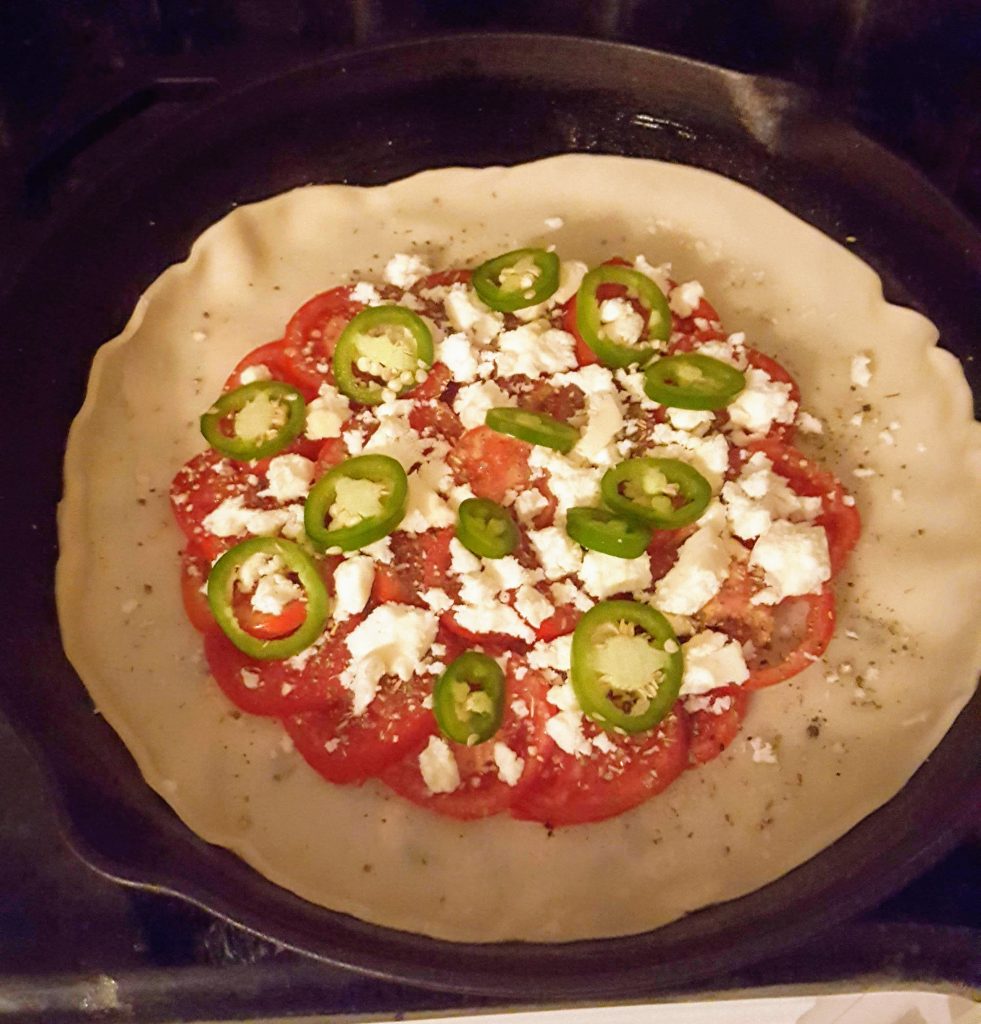 The Process
I placed the dough directly on the cast iron skillet I was using and layered sliced the tomatoes and jalapenos. If you'd like a spicier dish you can adjust the heat level my adding more jalapenos or use habanero peppers. I could have gone more spicy but love the warm, subtle heat of jalapenos. Make sure you season the tomatoes before adding the other items. I've outlined the steps in the recipe below. You can easily print the recipe too if you'd like.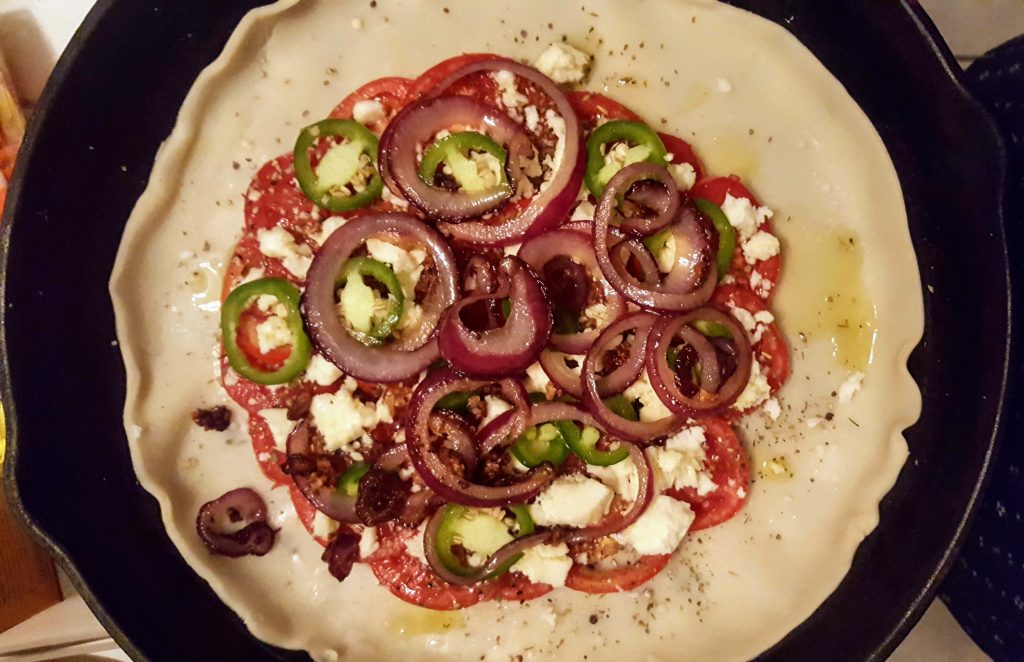 The Prep
Make sure you saute the red onions and garlic in olive oil before you start slicing the veggies, this way you can save a bit a time since you have to wait for the onions to soften. Want to save more time? Slice up the tomatoes and jalapenos the night before. Before topping the onion mixture on tomatoes, make sure the onions caramelized to ensure everything cooks evenly. You could also risk burning the pastry trying to get the right textures on the onions – for me personally, I prefer a softer bite than crunchy for this dish.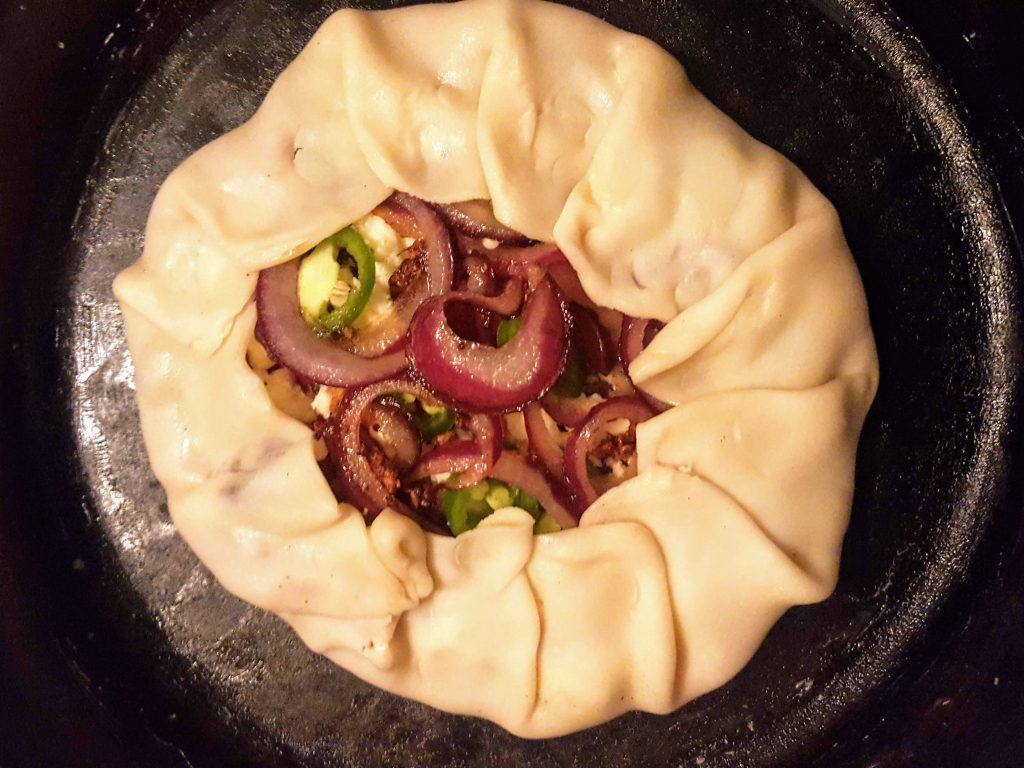 Bring It All Together
If you don't have a cast iron skillet, you can use a non-stick cookie sheet or stone cookware. I love baking in the skillet because it gives everything a nice crispy texture and heats evenly. This galette will work as a main dish if you give yourself a bigger serving. This recipe serves 4 -6 but you can also pair it with a side salad if you're feeling hungry. It's also great with a glass of pinot noir as long as it's a little on the fruity side. I like lighter reds with spicy foods or an acidic, crisp white wine like a gruner veltliner or pinot grigio.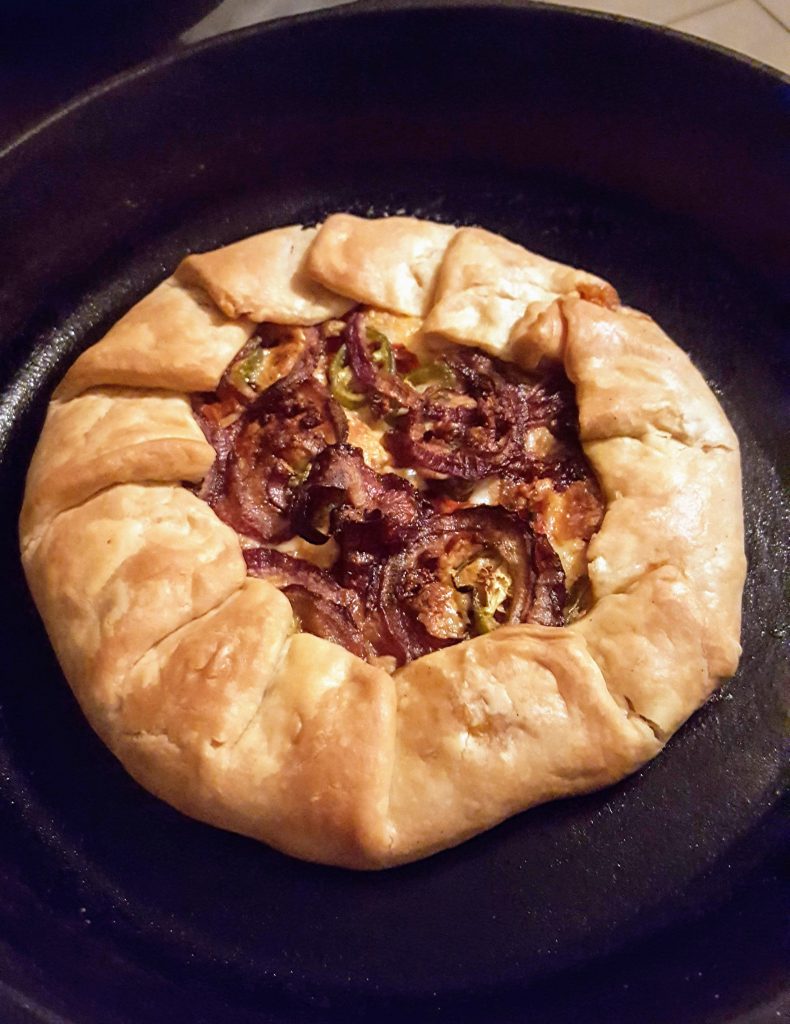 Will you try this recipe? It took me about 40 minutes to make but most of the time is spent waiting for galette to bake! Enjoy a glass of wine while it's baking, help your kid with homework or let the dog out. I hope you enjoyed this recipe and if you did, come back and drop me a comment and rate it for me. Pretty please 🙂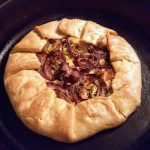 Print Recipe
Spicy Tomato Galette
Ingredients
4-5

Medium tomatoes

1

Large jalapeno

4

oz

Cotija Cheese

1

Medium red onion

2

Garlic cloves, crushed

3

tbsp

Olive oil

½

tsp

Coarse salt

½

tsp

Black ground pepper

1

tbsp

Chopped fresh cilantro

1

tsp

Oregano

1

Frozen pie crust
Instructions
Preheat oven to 350°. Wash/rinse tomatoes and jalapeno. Also if pie crust is frozen be sure to defrost so you can easily unfold and ready to use once prepping veggies.

Slice tomatoes, jalapeno, red onion and set aside. Then chop cilantro, peel the garlic cloves or leave as is if you have a garlic press.

In a saute plan over medium heat 2 tablespoons of olive oil. When oil is hot add the red onions and season with a pinch of salt and pepper. Cook until the onions are soft and a little caramelized, about 5-7 min. Towards the end of cooking, add the crushed garlic and stir. Set aside when done.

Lay the pie crust down on a non-stick cookie sheet or a lightly oiled cast iron skillet. Begin layering first the tomatoes in a circular pattern making sure to leave about 2-3 inches away from dough edges until bottom is covered. Season tomatoes with a pinch of salt & pepper and drizzle with 1-2 tablespoons of olive oil. Top with the jalapeno slices and sprinkle crumbled cheese evenly on top. Top with chopped cilantro, oregano and finally, the sauteed onions.

Fold over the edges while turning galette and pinch dough as you go along. You should have about a 4-5 inch opening in center.

Bake galette for 30-35 minutes but check towards end of cooking to account for different oven types. Remove from oven when dough is a light brown color and let cool for a few minutes before serving.
Notes
If you want a spicier galette, use habanero peppers or add more jalapenos. One large jalapeno made gave it a mild level heat. 
Don't have Mexican Cotija cheese? Substitute a mild white cheese like goat cheese or mild white cheddar.