A couple of things I must always have at a cookout are cheeseburgers and spicy BBQ ribs, they're quintessential to any backyard grilling event.  The only issue I have is that the burgers are usually so big you barely have room for anything else. I'm going to fix that from now on and will be making these mini burgers! They're the perfect size for cookouts especially when there's so much more food to try.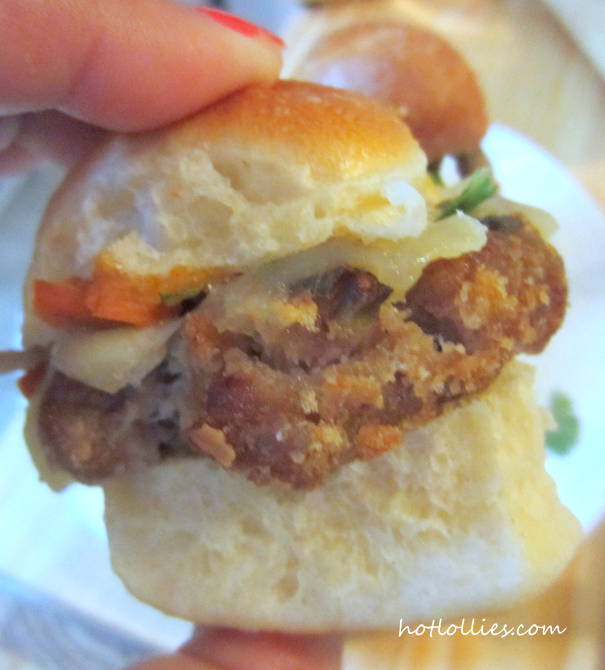 For me, the burger is usually the appetizer or the first thing I grab at any cookout, then it's just a waiting game until I'm hungry enough for those ribs! So why not just fore-go all that bread and meat and make a snack size version of a favorite? Sometimes all you need are a couple of satisfying bites to hold you over and these little Vietnamese style mini pork  burgers will do just that! They're tasty, moist and satisfying!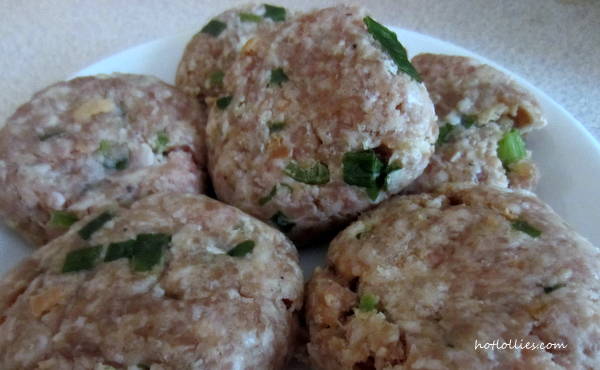 I grilled these using my trusty George Foreman grill, not exactly my idea of grilling but the weather has been a bit dreary here in the past week.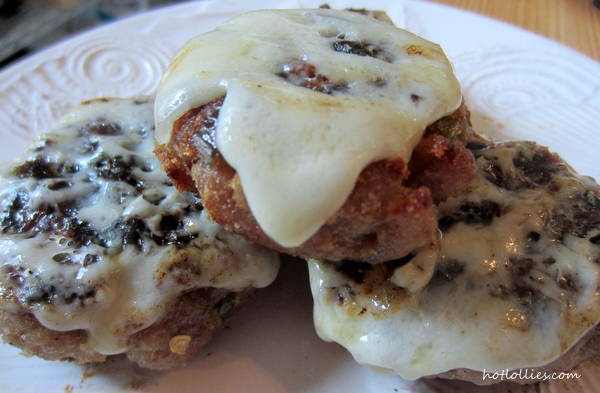 These Vietnamese style mini pork burgers were inspired by one of my favorite Vietnamese sandwiches, the Banh Mi. Banh mi just means baguette in Vietnam or Saigon, where the Banh Mi hails from, and they come stuffed with seasoned meat, pickled veggies and a spicy sauce. Check out the sandwich version I made some time ago!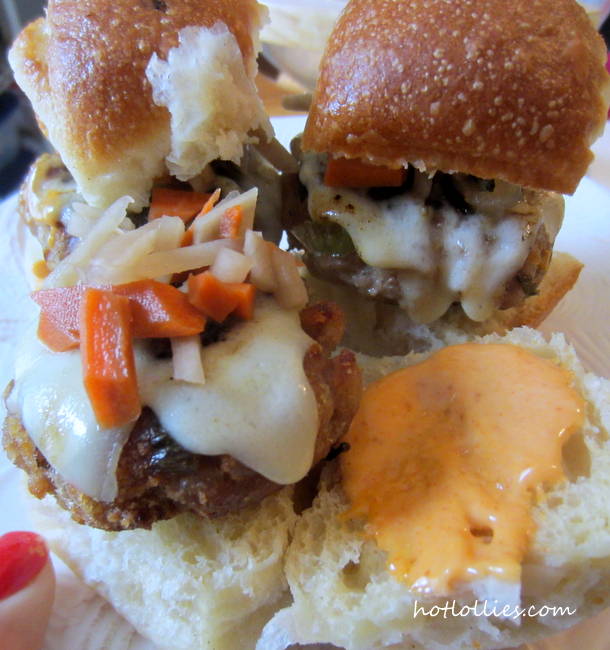 These pork mini burgers are spiced with Asian flavors and jalapenos and served on a mini roll. So easy to make and a nice unexpected twist to your standard cheeseburger! Surely your guests will be surprised!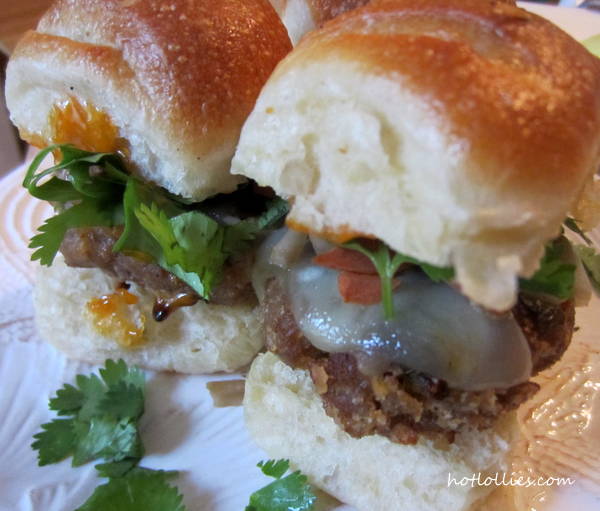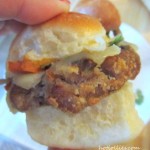 Print Recipe
Vietnamese Style Mini Pork Burgers
Ingredients
1

lb

ground pork

2

tbsp

fine breadcrumbs

2

stalks scallions

chopped

1

jalapeno

chopped

1

garlic clove

minced

1

tbsp

rice wine vinegar

1

tsp

red pepper flakes

1

tsp

salt

1

cup

pickled veggies

Sliced provolone cheese

cut to size

1/2

cup

mayonnaise

1/8

cup

Asian hot sauce

I used Kim's Korean Hot Sauce

Cilantro for topping

Mini rolls
Instructions
Add the pork to a bowl and mix in the next 7 ingredients and stir well until all are evenly distributed.Refrigerate for about an hour

Turn on the grill and while that's heating up divide meat into 4 parts and start shaping the patties into balls a little bigger than a golf ball. This makes about 20 meatballs.

Flatten each ball with the palm of your hand and grill on each side for 5 minutes. Since I used the Foreman grill, the meat cooks on both sides at once so only cooked for about 6 minutes.

When burger is done melt cheese on top and grill the mini rolls.

Transfer the burgers onto your rolls, top with pickled veggies and cilantro.

Make the spicy mayo by mixing the mayo and hot sauce in a separate bowl. Spread the spicy mayo on top side of bread and enjoy.
Here's a quick recipe for the pickled veggies. Also, if you don't want to use all the meat for burgers, save some of the seasoned meat for dumplings!