I clearly remember the trip I took to Barbados about 10 years ago, and everyday woke to the sounds of the ocean, groggy with sleep from partying the night before and in desperate need of coffee and food. We stayed in a time share apartment right on the beach and although we had a kitchen I don't think we ever turned the stove on! It was so much easier just going around the corner to this tiny convenient store that sold everything from toothpaste, beer, and band-aids to spicy egg sandwiches. I had an egg and cheese sandwich almost every morning, smothered of course in a homemade Bajan pepper sauce! Simple but so good I just had to have it. That was the first time I tried traditional hot sauce from Barbados. The island is gorgeous and the food and spices are pretty amazing, you should definitely visit!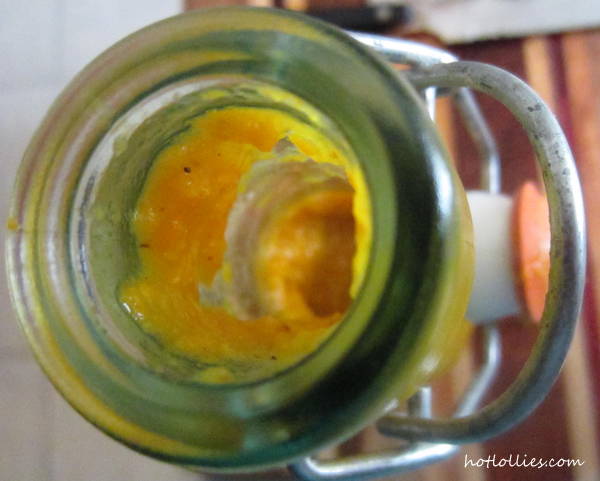 Bajan pepper sauce is mustard based and pours thick and chunky with bits of carrots, red peppers, onions and lots of fiery scotch bonnet peppers! I remember buying a couple of bottles before I left for home. I needed that sauce, needed it like some addict. It's amazing on eggs, and great on fish, chicken and all sorts of sandwiches. You can find Bajan hot pepper sauce pretty much in any neighborhood supermarket where there's a large Caribbean population or you can get in online. I usually buy the Delish brand but nothing like having an authentic homemade Bajan hot sauce so I just had to try and make my own.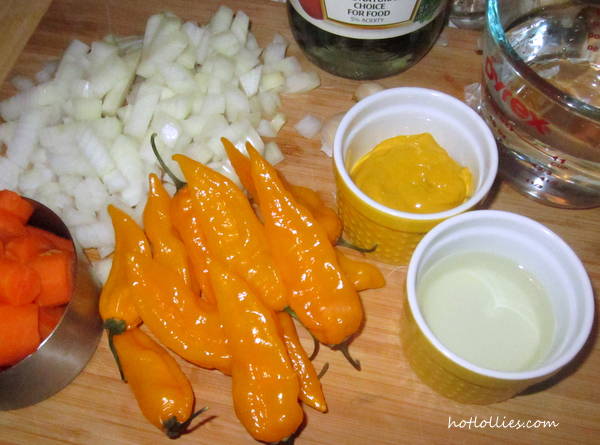 I searched online for recipes to see which "tasted" best. You ever do that? Read a recipe or restaurant menu item and know exactly how it's going to taste? I used this recipe as a base and added a few extra ingredients to round out the flavors. As you can see above, I swapped the scotch bonnet peppers for the super hot fatalii chile peppers.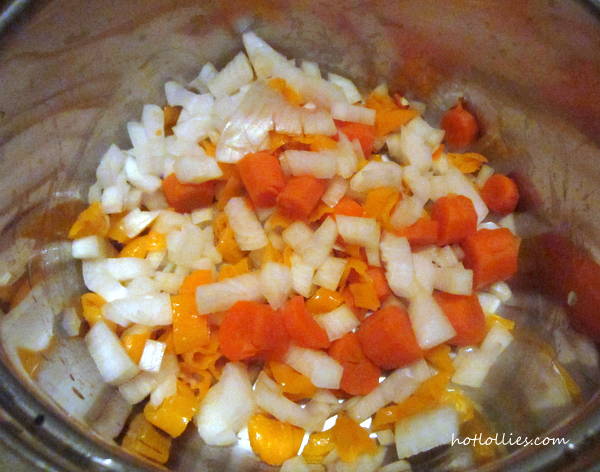 I find the fatalii peppers to be very similar in flavor to the scotch bonnets, just more intense and hotter. Besides, I had about 1/2 lb of the fatalii peppers and needed to use them up!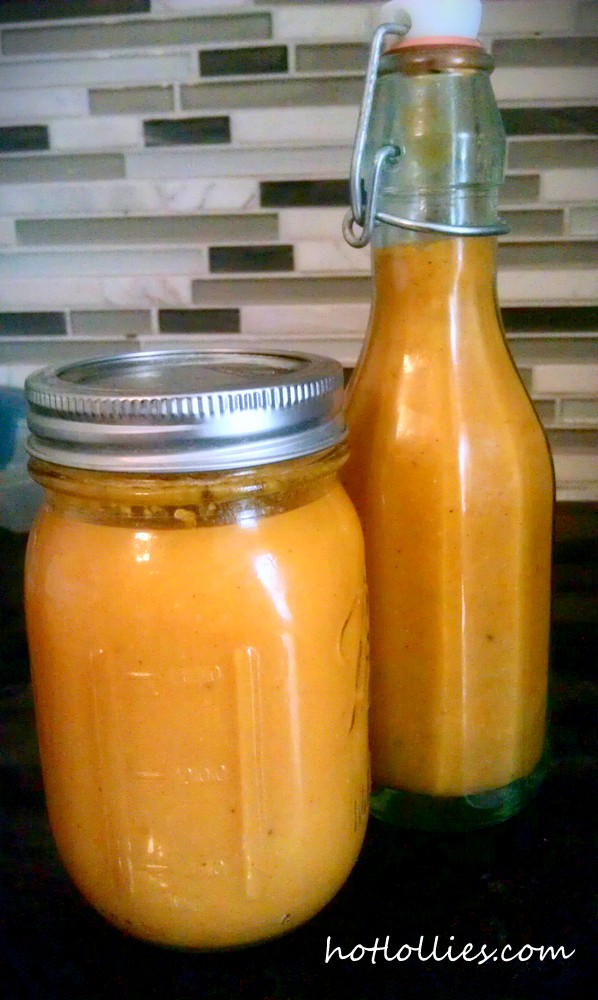 A few tips when making any type of hot sauce:
Open windows & turn ventilation on because the fumes from the peppers will burn your eyes and throat, and you don't want that!
Use gloves when handling hot peppers, especially large quantities, the oils will stick to your fingers and burn the heck out of you
Wear a mask if you're working with super hots, grab a bandana and wrap around your face, pretend you're some warrior
Wash your chile peppers thoroughly to reduce chances of bacteria, you don't want the cooties
Finally, taste your sauce before you bottle, tweak the recipe if needed and reheat, you don't want to wind up with a sauce you won't use! 🙂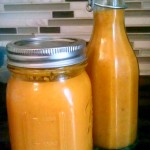 Print Recipe
Homemade Bajan Style Pepper Hot Sauce
Ingredients
12

Fatalii peppers

chopped

3/4

cup

carrots

chopped

1

large onion

chopped

1/4

cup

yellow mustard

1/4

cup

white vinegar

1/2

cup

water

2

tbsp

vegetable oil

2

tsp

curry powder

1

tsp

turmeric

2-3

tsp

sea salt

1

tsp

ground pepper
Instructions
Before you start making the sauce, make sure you have sterile glass bottles or jars ready to use. This recipes makes about 32 oz of sauce.

In a food processor or blender add the chopped peppers, carrots, onion and the rest of the ingredients blend until chunky. You can add water a little at time to help blend ingredients more easily.

Transfer the sauce mixture into a sauce pan and on medium heat bring the mixture to a boil and cook for at least 20 minutes. Do not cook less than this, its very important to maintain freshness and to ensure no bacteria forms.

If sauce thickens up too much add more water to achieve desired consistency.

Remove sauce from heat and immediately add the hot sauce into the sterile bottles or jars using a funnel. Be sure to leave about 1/2 in head space to rim of bottle/jar and secure cap.

Process the hot sauce bottles using the hot bath method used for canning foods. This will help preserve the hot sauce for up to six months. Having a large pot with a canning rack will be very helpful, if not improvise to ensure jars are upright and submerged in water.

Boil for at least 10 minutes then carefully remove each jar with tongs and place on top of a kitchen towel on the counter top and let cool completely.

If you used canning jars you will hear a "popping" sound which is the jar sealing and ensuring preservation.