Oh my, I can't believe it's been so long since I last posted here. So sorry to have abandoned you so just wanted to let you all know that I'm still here! 🙂 I've just been so overwhelmed with work, home repairs, travel and wait for it……redesigning this blog!! Woo Hoo! Within a few weeks I'll be able to share with you a brand spanking new Hot Lollies blog that's bright and lively with great new spicy content to go along with it. I'll still keep posting here until I make the switch over to the new design so please don't go anywhere! You see, I even made a roasted chiles and vegetable frittata for you! How can you resist a spicy, hearty frittata?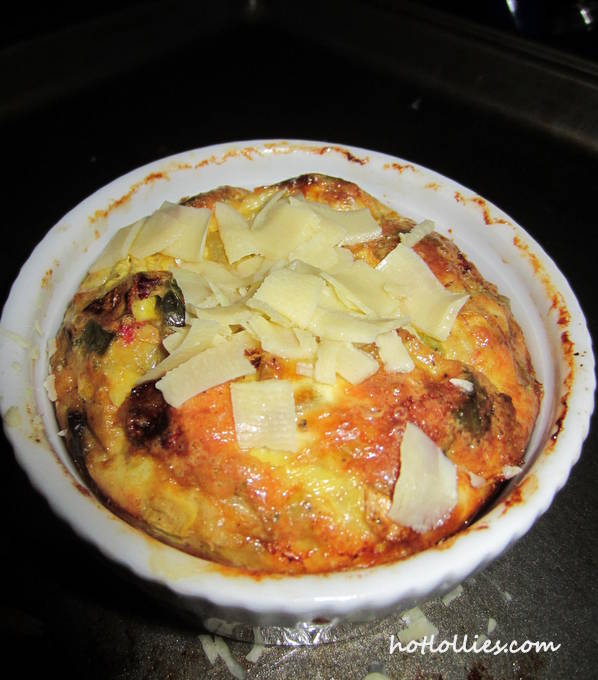 I saw this episode of Ina Garten's Barefoot Contessa a while ago and immediately went online to bookmark this frittata recipe. I love Ina's recipes. She makes the most luscious comfort foods look so easy to make. I don't always get a chance to watch her show but this episode featured all the things to make with cheese so clearly I had to drop everything!
Ina made a bacon and Gruyere grilled cheese, a rib-eye steak with Stilton cheese sauce, a coconut cupcake with cream cheese frosting but what really hooked me was a roasted vegetable frittata. Tender pieces of lightly season roasted vegetables tossed with an egg and cheese mixture and baked to perfection! It's a great way to start your Sunday morning with a bright and peppery egg dish. The chile peppers add nice heat that isn't overwhelming and really lets the vegetable and cheese flavors come through.
I spiced up the recipe and also substituted a few things to make it just a little healthier. I switched the half & half for 2% milk and cut back on the oil by just drizzling a small amount to roast the vegetables. The original recipe also served twelve so I quartered the recipe and made them in ramekins instead of a cast iron skillet, you know, for portion control. 😉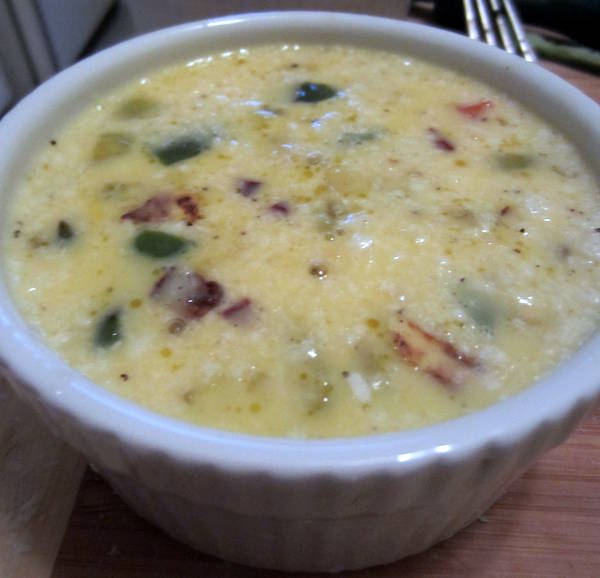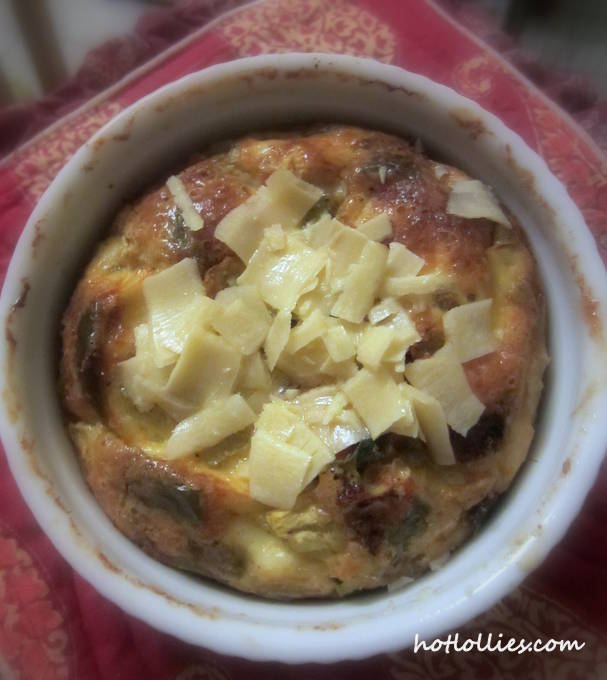 Roasted Chiles Vegetables and Frittata
serves 2
recipe adapted from Ina Garten
1/2 small zucchini, 1 inch dice
1/4 red pepper, 1 inch dice
1/4 green pepper, 1 inch dice
1/4 red onion, diced
1/2 small cubanelle pepper
1/2 jalapeno, diced
habanero-infused olive oil
1 small garlic clove, minced
4 eggs
1/4 cup milk
1-2 tbsp fresh Parmesean cheese, grated
1 scallion, chopped
2-3 slices of habanero pepper, diced
2 tbsp Gruyere cheese
1 tbsp butter
salt & pepper
1. Preheat oven to 425 degrees, spread zucchini, peppers (except habanero) and onion on baking sheet, drizzle with olive oil, sprinkle with salt & pepper and toss around until nicely coated. Heat for 10 minutes then add the garlic and toss again. Heat for another 10-15 minutes. Remove from oven.
2. Turn down oven temperature to 350 degrees. In a bowl, beat the eggs, add the milk and beat again. Stir in the Parmesean cheese, season with salt and pepper and mix well.
3. Melt butter in a saute pan, add the scallions, habanero pepper and cook until soft. Add the roasted vegetables and mix well.
4. Spoon the roasted vegetables into two ramekins until each is 3/4 full and top off with the egg mixture. Bake in the oven for 20 minutes then top each with the Gruyere cheese and baked for a couple of minutes until cheese is melted.