Wow, this month is quickly flying by! With birthday celebrations, yup recently had a birthday, holiday dinners and planning for my Christmas Eve dinner, time has just slipped away and my little blog has taken a direct hit. There's just so much to juggle but I wanted to share  with you this super easy sweet and spicy pepitas brittle recipe I made. Pepitas are raw pumpkin seeds and they add a nice chewiness to this crunchy brittle. You can easily whip this up in 15 minutes and send your guests off with a sweet and spicy treat this Christmas.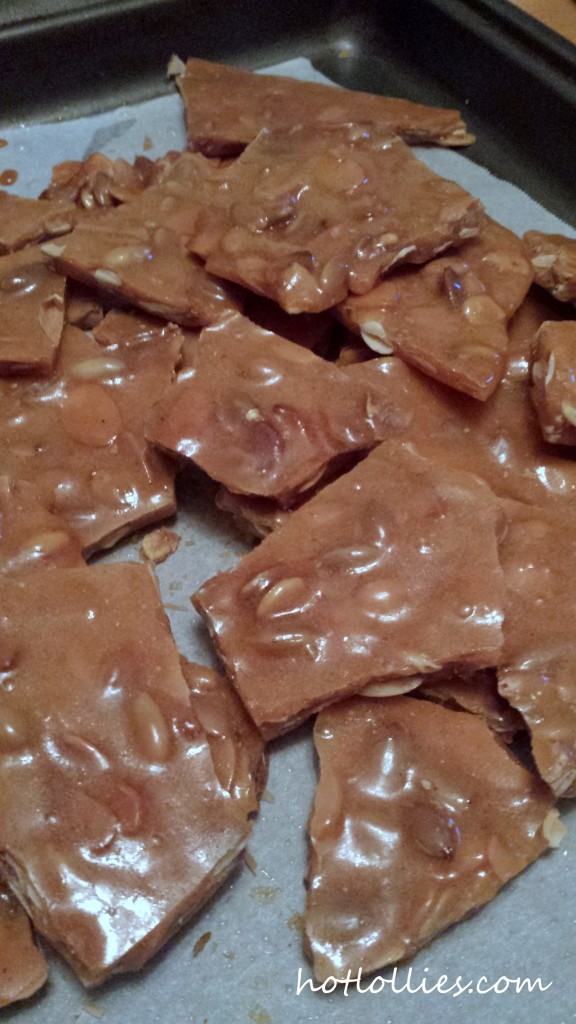 I found a peanut brittle recipe online and switched up ingredients for a more chewy brittle using seeds and nuts. When making brittle, make sure you prep all ingredients and have a candy thermometer on hand. It's very easy to burn candy as temperature can climb quickly so you want to keep an eye on it, I've burned plenty of candy recipes before! Also stoves, altitudes, saucepans vary so if your candy reaches a nice caramel color and temperature hasn't reached 300 you'll want to remove from heat quickly. Once you add the nuts and butter the temperature will go down again so you don't necessarily need it to come up to 300 if your candy is darkening quickly. Candy will continue to cook in pan once you remove from heat.
I plan to leave small bags for guests in case they want to take some home because I have way too much to prep for but you can fill a small bag and give away as a party favor. All in all, a sweet and spicy treat everyone can enjoy.
Merry Christmas and may your days be filled with love and happiness!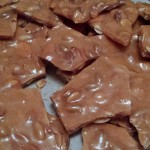 Print Recipe
Spicy Almond and Pepitas Brittle
Ingredients
1

cup

sugar

1/2

cup

light corn syrup

1/4

cup

water

3/4

cup

pumpkin seeds

pepitas

1/2

cup

almond slivers

2

tbsp

unsalted butter

1

tsp

salt

3/4

tsp

baking soda

1/2

tsp

cayenne pepper

pinch

of cinnamon

pinch

of sea salt
Instructions
Line a cookie sheet with parchment paper and grease well.

In copper pot or heavy bottom sauce pan, add sugar, light corn syrup and water and stir until well mixed. Cook on medium heat, stirring until mixture comes to a boil.

When temperature reaches 290 degrees (use a candy thermometer) add the pepitas, almonds, butter and salt. Candy will bubble but stir until well mixed.

When temperature reaches 300 remove from heat, stir in baking soda, cayenne pepper, and cinnamon well mixed. Candy will bubble again.

Immediately pour onto lined cookie sheet. Spread evenly and sprinkle a pinch of sea salt on top. Let cool then crack brittle into pieces.