Have you ever tried the Maya Kaimal Indian simmering sauces? I wasn't sure what to expect when I picked up a jar of the Tikka Masala simmering sauce a few weeks ago but this sauce delivered all the things I love about Indian food. This Tikka Masala is a tomato based sauce made with yogurt, garam masala, cloves for bold and complex sauce that is mild in heat. The sauce is thick and rich in flavors making it great for chicken, fish or tofu.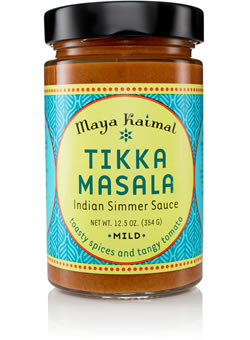 photo credit: Maya Kaimal
I'm still learning how to cook Indian foods so when I want authentic Indian cuisine I take a drive to little India in Edison, NJ or Newark Ave in Jersey City. This sauce however will make a nice stand-in for those times when I can't take that drive. All you have to do is cook about a pound of seasoned chicken, fish or tofu and pour the sauce over it and simmer for 15 minutes so all the flavors meld well. I used a little over a pound of chicken breast and found that there was more than enough sauce in this 12 oz jar even if I needed to add more chicken. I was able to get 3-4 servings from from it so not bad for a $6 jar. This sauce is mildly spiced so I added two  Thai chiles during the process for extra heat.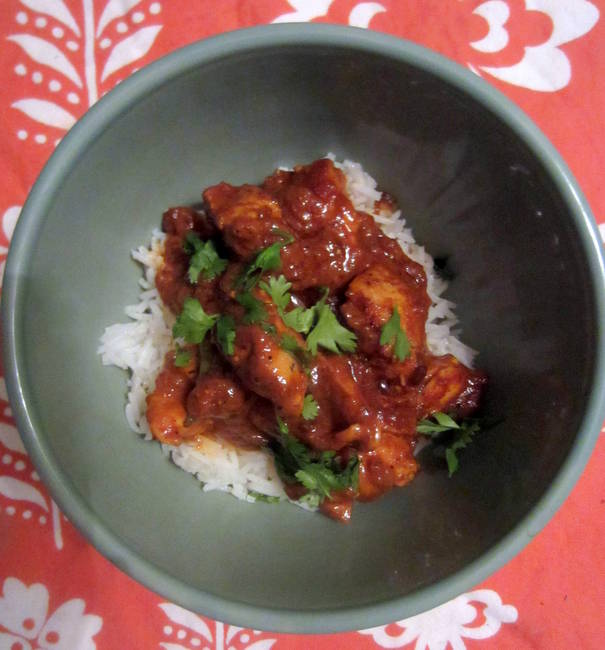 Serve it over basmati rice and top with chopped cilantro. In less than 30 minutes you can make it Indian food night this week and serve this delicious bowl with your favorite Indian food accompaniments. I added crispy papad with a dollop of mango chutney and a light and crisp chardonnay. Cheers! Now I have to try the other sauces in this great product line!