February 14, 2014
Seriously, I've just had it with all this snow. We were hit with another 11 inches of snow yesterday and I've yet to move my car since last weeks storm! My wheels just kept spinning in the ice so just shook my little fists up in the air left it there. There's also supposed to be another storm coming tomorrow but I'm not letting it put a damper on my evening plans. After shoveling for the umpteenth time I just wanted a strong, spicy drink and pretend I was on a beach somewhere. I thought this prickly pear margarita for Valentine's Day was fitting…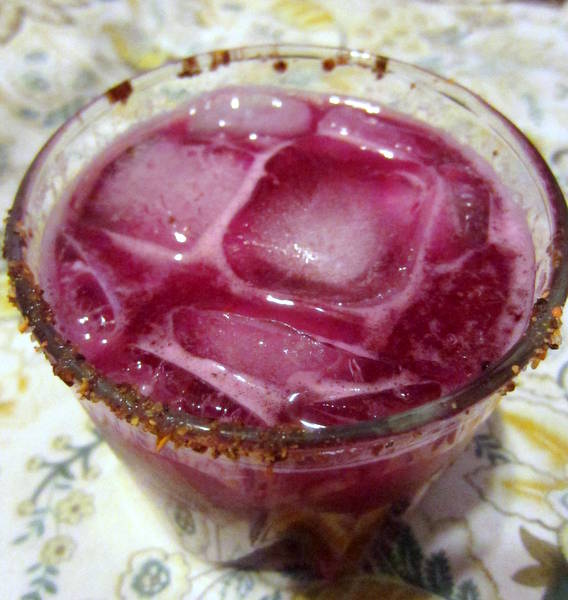 Have you ever handled a prickly pear? These semi-tart fruits grow on nopales, the flat cactus shown below. They look deadly but inside they're a gorgeous fuchsia color and mildly sweet. You have to seriously watch how you handle the fruit however, they call it prickly for good reason. The fruit has these tiny spines that can easily pierce the skin which I learned very quickly. I'd suggest wearing thick gloves or holding them from both ends.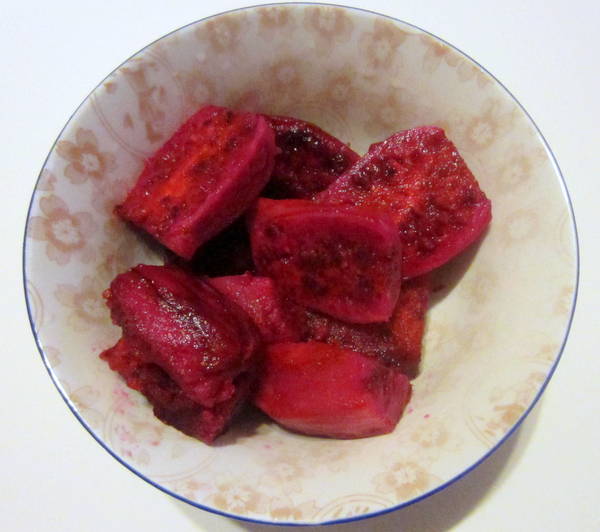 If you like tart, spicy cocktails that aren't too sweet then this prickly pear margarita will be right up your alley. Happy Valentine's Day!
Prickly Pear Margarita for Valentine's Day
Author: Maria
Serves: 4-5
Ingredients
3-4 prickly pears, skin removed, quartered
1 cup 100% agave tequila
1 jalapeno, sliced
½ cup triple sec
2 limes, juiced
tajin
Instructions
Pour tequila into a cup then add the sliced jalapeno. Let sit for at least 1 hour or infuse the tequila with jalapeno overnight.
Blend the prickly pear in a blender with a little water. Strain juice in a separate container to remove seeds. Set juice aside.
Fill ½ of pitcher with ice, add tequila, about ½ cup of prickly pear juice, triple sec, lime juice and stir vigorously. Taste and adjust with triple sec for a little sweetness, if needed.
To serve, rim glass tumblers with tajin chile spice and fill with the cocktail.
February 20, 2013
It's cold outside but warm indoors and sometimes you just want to kick back, have a refreshing cocktail and just dream of summer. It's also a great time to take advantage of seasonal citruses like blood oranges and spruce up a classic margarita cocktail. This sweet and tart fruit gives the margarita that extra tang and the spicy merken will just make you want to lick all around the rim! It's all very simple, just squeeze a blood orange, a lemon and lime…
Wet the rim your glass with a lime and dip in Merken spice…
Get some good tequila, ice, simple syrup, lime slices, stir, sip and transport yourself to a sunny beach with warm sand at your toes, hear for the waves crashing in the distance and just breathe…