Raise your hand if you'd love spicy food as a holiday gift? What about spicy habanero candied bacon? Yes and thank you!! This is the perfect gift for bacon and spicy food lovers – chewy, crunchy, lip numbing, sweet and salty treat all in one. It's just too easy and delicious not to make!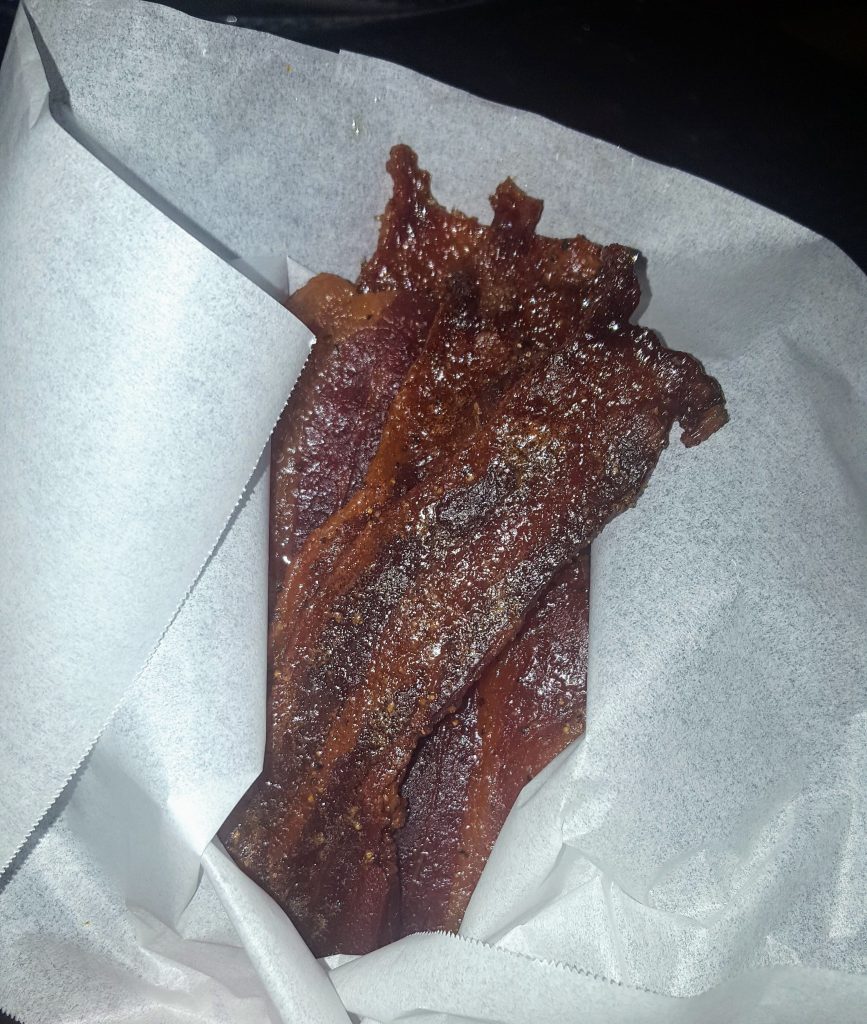 Hello all, it's been a while since I've written here and I'm bringing spicy bacon as a peace offering! Forgiven? OK, great! 😉 For those wondering, I've been on a long hiatus from Hot Lollies and lately I've been wanting to write again. Truth be told, I was just overwhelmed with everything from my day job, my lollipops business, writing, and dealing with my Dads' illness and later his passing. Another reason was I was dealing with the side effects of food blogging; getting fat!
There I was, making all these great meals, frig filled to the brim and cooking just to keep up with blogging. I love cooking but I don't always want to stop and shoot it. Often times I'd forget to take photos and just eat! Needless to say, I wasn't enjoying the process so I walked away for a couple of years and now happy to be back after gaining a bit of sanity. I've missed sharing and writing about my passion here so hopefully you'll love this recipe! Let me know what you think!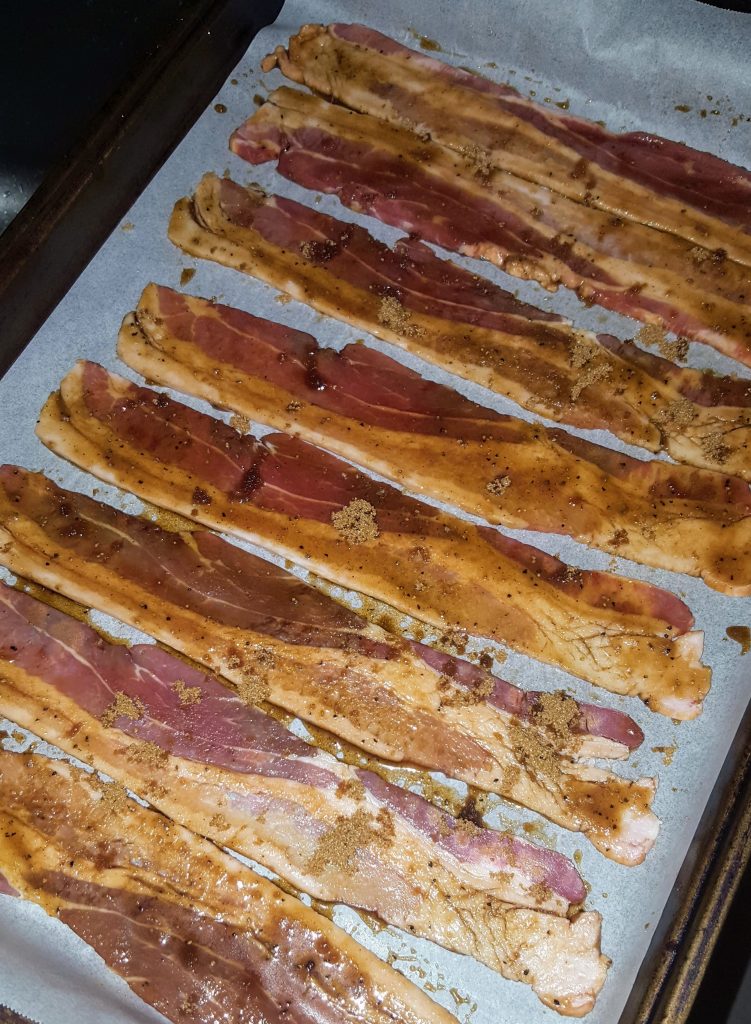 Bacon Cut
I used a thick cut of bacon for a meatier, more chewy bite. I've made this recipe before with regular bacon and it shriveled up quite a bit so cut is a better option. This thick-cut bacon also retains its shape and tastes much better. I found mine at my local Sam's Club but you can check your local grocer or check out this un-cured bacon. Sprinkle a bit of spiced sugar if you'd like a spicier treat.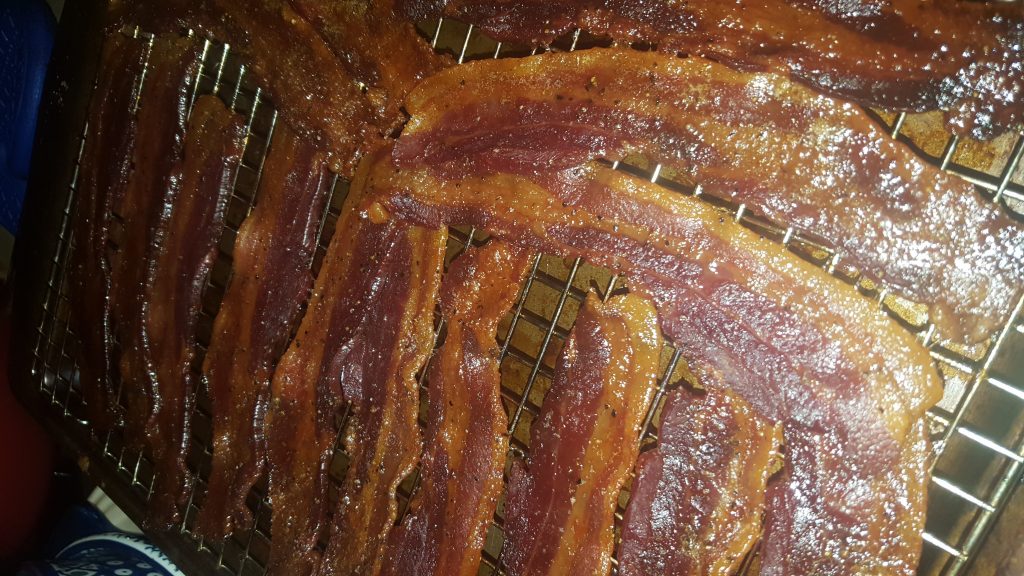 Cooking Process
Keep an eye on the bacon while it's cooking. My oven is an older model so I usually have to cook things a bit longer than most recipes call for. Make sure the bacon is nice and caramelized before removing from oven and that the edges curl up. Bacon is super fatty so either cook on rack to collect drippings on a pan and line pan with parchment paper for easy clean up. I failed to use the rack during cooking and had a greasier result but next time I'll cook on the rack.
Additional Tips
Another important tip if you don't have habanero sugar is to just make your own spicy sugar. I already had some on hand but making your own allows you to control the level of heat. I love using Volcanic Dust products for pure, ground up chile powders. Try this habanero powder and if you're feeling a little devilish try this one, it's pretty amazing. Mix in 1-2 tsp of chile powder and add a bit more of dark brown sugar.
After removing the bacon from oven and cooling on the rack, wrap it up in parchment paper, tie a cute bow and viola, your gift is ready!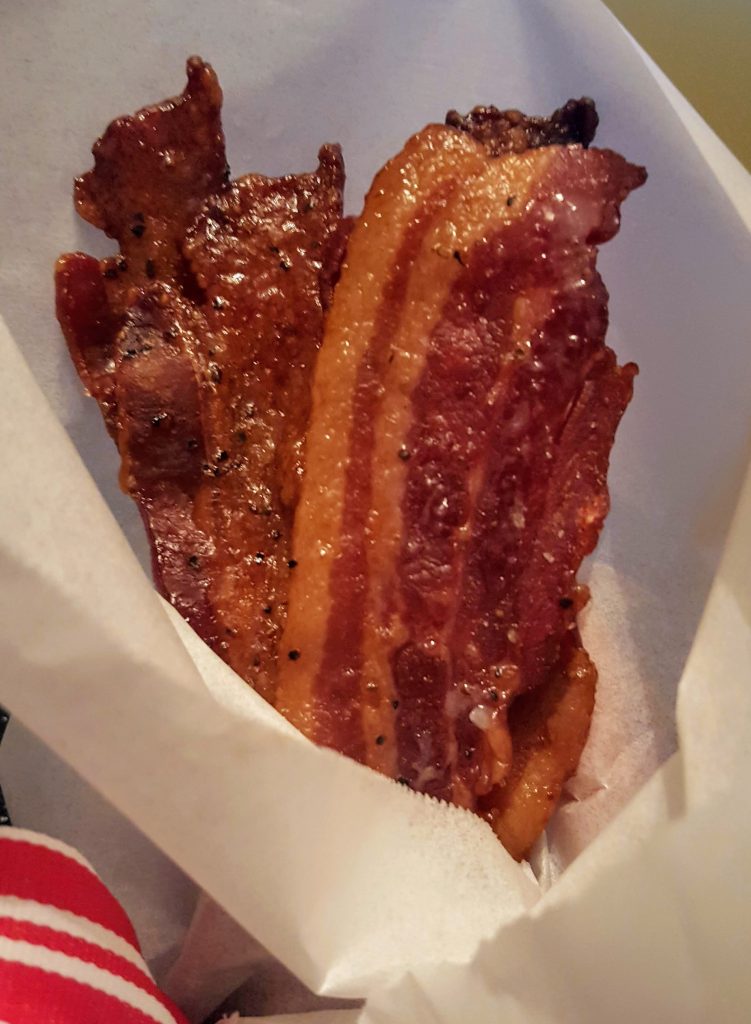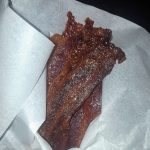 Print Recipe
Spicy Habanero Candied Bacon
Spicy, crunchy, chewy bacon snacks
Ingredients
1

lb

thick-cut bacon

1/2

cup

dark brown sugar

2

tbsp

habanero sugar

1/4

cup

pure maple syrup

2

tbsp

molasses

1

tsp

cayenne pepper

1/2

tsp

cracked black pepper
Instructions
Mix both sugars, maple syrup, molasses and cayenne pepper in a bowl

Line a sheet pan with parchment paper, add a rack on top

Brush both sides of each slice of bacon with sugar mixture or rub in with your fingers

Lay sugared bacon flat in rows on rack and sprinkle with cracked black pepper

Bake at 350 degrees for 30 minutes. Keep an eye on it while cooking making sure bacon gets a good caramel color

When finished baking, remove from oven and let bacon cool on rack