Whether you're growing chile peppers and yielded a plentiful harvest or you bought too many, here's a quick and easy solution for using up some of those chiles. Make this hot and spicy red savina habanero pepper vinegar to drizzle on just about anything your heart desires. These red savina habanero peppers are super hot, about 6-8 times hotter than jalapenos but they have this sweet citrus flavor that I just love. Now that doesn't mean I'll bite into a whole one, I know my limits, but I do like using it sparingly so they enhance my food, not mask it!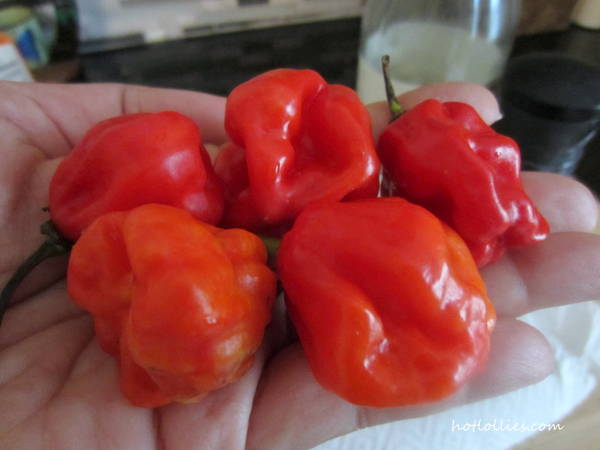 I didn't grow these peppers, I have been buying them once I knew my plants were ruined. This is the second time I tried growing habaneros and a few other super hots but the weather was too extreme here. Just when I thought the seedlings were strong enough to take outside I would have to bring them back in because of all the torrential downpours we got. It rained the whole entire month of May and part of June here and July was an inferno so that just destroyed my plants. I'm not giving up though, third time is a charm no?!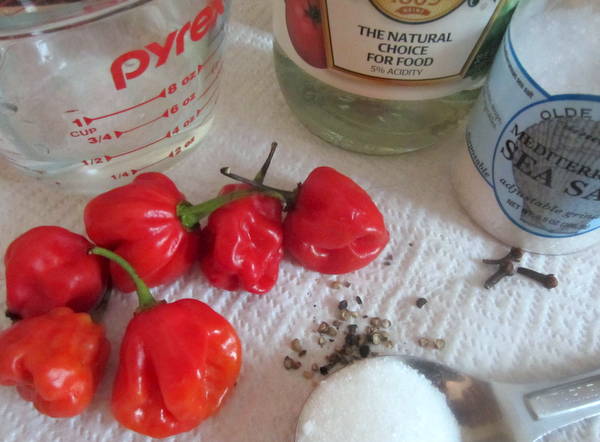 For this habanero pepper vinegar you'll need an 8 or 10 oz glass bottle or jar. I like the bail lid lock bottles since it's easier for drizzling and the bail lid keeps contents fresh…they look really pretty too. While in New Orleans, I saw these types of vinegars on most restaurant tables, apparently it's the condiment of the South and one I like to keep in my frig!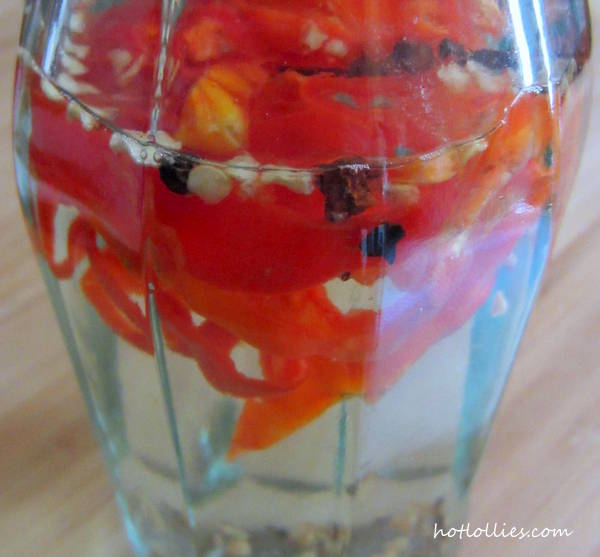 You can drizzle this hot and spicy habanero pepper vinegar over salad, french fries, pepper steak, sandwiches and chicken. Very versatile, spicy and delicious!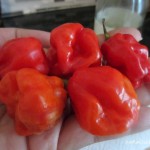 Print Recipe
Red Savina Habanero Pepper Vinegar
Ingredients
2-3

habanero chile peppers

sliced

1/2

cup

vinegar

1/2

cup

water

1

tbsp

sugar

1

tsp

salt

4-5

cloves

1/2

tsp

peppercorns
Instructions
Bring the water and vinegar to a simmer. Add the sugar and salt and stir to dissolve.

Let mixture boil and remove from heat. Add the peppers, cloves and peppercorns to mixture and let it cool completely.

Pour mixture into a clean glass bottle, stuff the peppers in if needed.

Refrigerate for up to a month.